A Very Important Partnership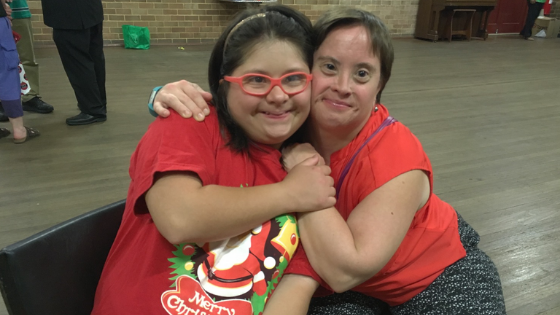 In 2015, The WeBelong Committee, which helps churches start their own Jesus Clubs, brainstormed ways to expand the network of disability ministry in Australia. They asked,
"How can we spread the movement of disability ministry, so reaching out to people with intellectual disabilities will become as natural to churches as running youth groups or kids' church?"
It became apparent that one of the most effective ways to grow the mission was to engage the next generation of ministers - Bible college students. Since they who would eventually disperse to different parts of Sydney and Australia, they were the ideal candidates to influence the direction of future disability ministry.
And with God's blessing, a partnership blossomed between Jesus Club, Moore College, and a local church, Newtown Erskineville Anglican Church (NEAC).
Four years on, the fruit of this partnership - Jesus Club Newtown, 'WeBelong', is a thriving club with seven members. There is a real sense of community, and the members and leaders delight in helping each other learn from the Bible. It is also fulfilling its strategic purpose to equip Bible college students with first-hand experience in ministering to adults with intellectual disabilities. Since 2016, about six college students have volunteered at the club, assisted and led the fortnightly program.
Bible study session at Newtown club
Leanna Fox, the Newtown club coordinator, sees the club as a gentle lead into the world of intellectual disability.
"Newtown club is a bit different to some of the other clubs, in that most of the guys coming are high functioning. They might work full-time in a supported employment role, or they might live independently with some sort of drop-in support. So, from that perspective, it's a nice introduction."
Besides practical experience, the Newtown club is also demonstrating to the students the power to connect in God's love.
"One of the things the Moore College students see is how [Jesus Club] provides these vulnerable members of society with an opportunity to feel loved, and be accepted for who they are", explained Leanna.
Jesus Club is grateful for this ongoing partnership and incredibly thankful to current Moore College students, Mike and Reuben. They are leading the way in using technology to enable their Jesus Club to continue meeting in this challenging time. technology to help their Jesus Club online in this challenging time.
Please pray for this ministry and the Moore College students who have committed to being part of the Newtown WeBelong service team. Pray that they will walk away from this year's training inspired and confident to lead. May God use them in the future to reach people with disabilities and share the good news of Jesus Christ to more regions in Australia.